BELAR LP-1 AND LP-1A AM SHIELDED LOOP ANTENNAS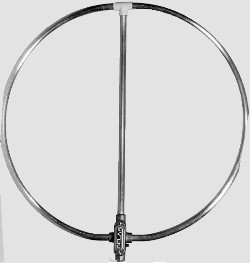 DESCRIPTION
Belar Shielded Loop Antennas are recommended when excessive electrical interference exists, or in the presence of an interfering station.
The basic design of a loop receiving antenna reduces electrostatic noise, and by using the natural directional receiving pattern, off-axis interference from other stations can be minimized by rotating the antenna.
The LP-1 is the basic loop antenna, and is tuned in bands--please specify the receiving frequency. The LP-1A adds an internal amplifier, and is more sharply tuned--frequency is required.
Important Application Note Regarding Shielded Loop Antennas
SPECIFICATIONS
Model LP-1 Shielded Loop Antenna
Frequency Range 			530 kHz to 1610 kHz in 3 bands

Diameter				33" 

Mounting 				1/2" NPT

Connector 				BNC

Attenuation 				30 dB

Permissible Wind Load 			150 mph, 100 mph with 3/4" ice


Model LP-1A Shielded Loop Antenna (Amplified)
Specifications as above, except that:
-Internal amplifier provides 30 dB gain for unity output. + 12 to + 15 vdc required. (Belar RFA-2 RF Amplifiers can be simply modified to provide the voltage source) or -OPTION 01: External 12 vdc Power Supply
© Copyright 2000 Belar Electronics Laboratory, Inc. All rights reserved. Specifications subject to change without prior notice.

---
What's New | About Us | AM Equipment | FM Equipment | TV Equipment | Service & Support